| | | |
| --- | --- | --- |
| | About The Ken Yu Kai Karate Association | |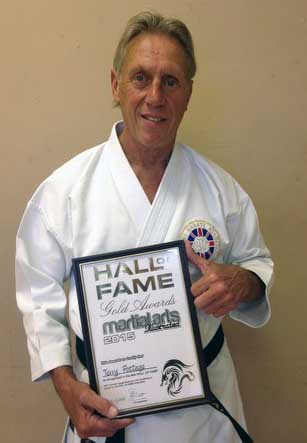 Set up in 1980 by Sensei Terry Pottage, now an 9th Dan; the Ken Yu Kai Karate Association is rising from strength to strength.
Sensei Terry Pottage (9th Dan) has been training in the Martial Art of Karate for over 45 years and during that time has gained a wealth of different accolades from International & National champion in both Kumite and Kata. His most recent (April 2105), is the Lifetime Acheivement Award in recognition to his services in Martial Arts. A worthy award to his dedication to this fine sport.
He is has been qualified as an international Referee since 1983 and continues to oversee the development of Referee's in England for the World Union Karate Federation (WUKF) as well as being the Chief Instructor to Ken Yu Kai Karate Association.
Through his coaching expertise he helped produce numerous champions including World, European and British title winners.
Sensei's Early Karate Years
I first put a Gi on in September 1970 at the YMCA in Manchester, that club as run by Steve Powell who at the time was a 3rd Kyu. The club was part of the Shukokai Karate Union (SKU), I am not ashamed to say that Karate training overtook my life over and within 6 months I was training 4-5 times a week I just couldn't get enough.
After reaching my Green belt I was asked to take part in a competition in Bolton, as no one in the club competed I didn't really know the rules but never wanted to lose so fought like a Tasmanian devil every time, unfortunately I didn't realise that controlled techniques we
re required to score points, though at that time the referees were far more lenient I did push it a little and was disqualified.
That was a big lesson for me as I really enjoyed the combative tests of competition fighting and learned fairly quickly to control my techniques and the next time I competed I managed to get a third place, whilst at that competition in Sheffield I entered the junior grade Kata event gaining a second place.
That was the real catalyst for my competition karate career, though my Instructor was not so interested in competition he encouraged me to continue to progress to greater thing and gave me the go ahead in 1973 to open a new club in Salford, that club was called Broughton SKU, this was to be the start of an incredible chapter in my life that still continues to present day.
Throughout the rest of the 70s the Broughton club prospered and gained a reputation as a no nonsense Karate club and as we travelled the country our famous yellow track suited competitors won countless competitions.
In 1973, I was picked to represent the SKU at the national and international competitions. Then during 1975, I was invited to fight in the selections for a place on the full all styles English National Squad. I won all my fights and became a member of the squad and was a regular member until 1981.
As a member of the SKU squad I won gold in the 1978 European championships for Kata and Team Kumite and bronze in the open weight individuals losing to my good friend and member of Broughton Les Carr.
Sensei Terry Pottage

Kata: Seichin 1980s

Sensei Terry with his Sensei.

Sensei Kimura

Sensei Terry with his other Sensei's

Doug Joseph & Dave Clark
| | | |
| --- | --- | --- |
| | The Birth of The Ken Yu Kai Association | |
In 1978 I had two clubs operating, in addition to Broughton I had another in Little Lever near Bolton, I asked my Japanese Sensei, Shigeru Kimura to give me a name to use for both clubs and he gave me the name of his personal dojo in Japan...........KENYUKAI.
So we were born and continued to be successful with more clubs approaching us to become members of KYK, not all were accepted. At that time in England not all was well on the political front with the bigger associations at loggerheads which meant that in 1980 the SKU suspended its membership of the Governing Body which affected Kenyukai as we were told that our International competitors could not be selected, this affected 7 of our members.
We waited for 8 months and nothing changed so we agreed to reluctantly leave our mother association SKU, this was a difficult decision but ultimately, as is evident by our successes, was the correct thing to do.
Over the ensuing years we have had our ups and downs and people have left us to do their own thing, and many of them have remained friends. We currently are going through a period of expansion as we are now in a new era being now direct members of WUKF giving us direct opportunities to take part in World and European events.
We have regular courses and squads and a very full competition programme. After 34 years as an independent organisation Kenyukai is getting stronger all the time as more students step up to support us, the future of Kenyukai is secured if you would like to become part of our fantastic family and take the opportunities on offer please contact us.